Department for International Trade
Putting UK business on a global stage
World Expo has been held every five years since 1851. And this one – delayed by 12 months – was the largest global gathering since pre-pandemic times. A mammoth six-month international showcase of innovation, creativity and collaboration, where 192 countries assembled in Dubai to celebrate the progress, values and qualities that define and bind us. Bray Leino Events worked with the Department for International Trade (DIT) to emphasise the UK's standing as a leader of creativity and a prime destination for international investment.
To showcase the UK's best people, places, technology, film, sport, music, food, and fashion across a schedule of live events, we designed a programme of around eight 'Breakthrough Moments' addressing fundamental questions about the future for people in the UK and the world. How will we live? How will we learn? What will we eat? What will we wear? How will we thrive, advance, travel, and create?
Inspired by UK physicist Stephen Hawking's ideas about how humanity might express itself to other advanced civilisations, the UK Pavilion building featured AI-powered poetry and invited visitors to 'see things differently'. With spaces for all manner of events, from galas and art exhibitions to intimate meeting rooms and panel discussion stages, this incredible venue became the setting for a wide-ranging event programme across the full six months of Expo. Take a virtual tour of the UK Pavilion.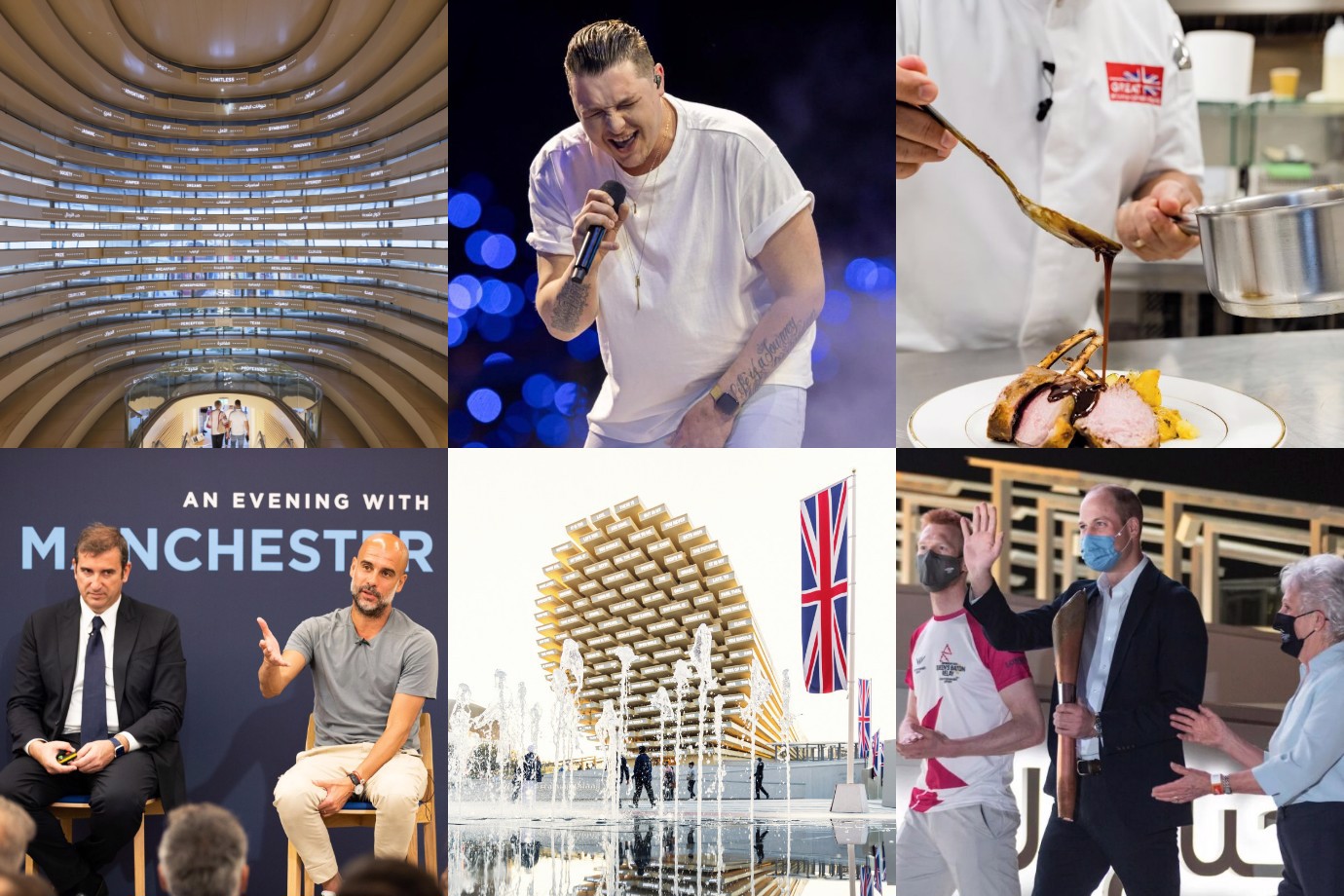 Over six months, we hosted over 300 separate events, delivered live and virtually – from expos and meet-and-greets to panel discussions, summits, conferences, theatre recitals, concerts, ministerial and royal visits, the wildlife Photographer of the Year exhibition…. and a music festival. We were also one of only a handful of countries to take over the entire Expo campus for our national day. Read about Expo 2020 Dubai #UKNationalDay.
---

The UK Pavilion welcomed over 5,000 visitors every day and its iconic design made it the most instagrammed structure on the vast Expo campus. We hosted school groups, innovators, businesses, athletes, politicians, international dignitaries, royals and VIPs, promoting home-grown innovation, art, creativity, and solutions to some of the world's most pressing challenges.
---